From photography to illustration and video art, we've rounded up five LGBTQ+ Hong Kong visual artists to follow this Pride Month.
Queer art includes a wide spectrum of styles and mediums that reflect the diversity of experiences in the LGBTQ+ community. With a rich history dating back to the late 1970s, queer art in Hong Kong has challenged norms of gender, sexuality, identity, and so much more. From photographers to video artists and illustrators, these local artists and creatives are ones to watch this Pride Month.
Read More: 15 LGBTQIA+ Books To Read This Pride Month
---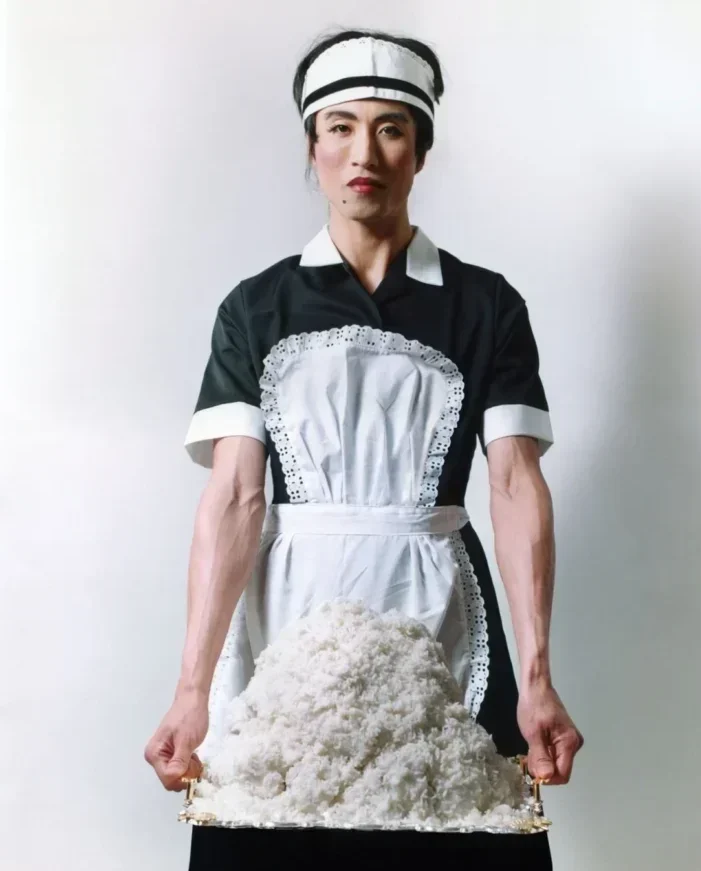 Kary Kwok
Photographer and art director Kary Kwok documented self-portraits and captured queer nightlife across Hong Kong and London in the 1980s and 1990s. Released for the first time since the 1990s, his photographs from Then/Now memorialise the vibrant, gender fluid representations of the time. Now he is moving the needle through his latest project, TA, a collaborative publication focusing on contemporary LGBTQIA+ and non-binary issues.
Kary Kwok, Instagram: @karyphoto
---
View this post on Instagram
Kaitlin Chan
Kaitlin Chan is a cartoonist and artist-curator making waves in the world of independent publishing through making zines and serialising her first graphic novel "Eric's Sister". While traversing multiple identities and communities, she connects people through sharing relatable moments of daily life with humour and honesty.
Kaitlin Chan, Instagram: @kaitlinmchan, www.kaitlinchan.com
---
Yau Ching
You can find the moving image work of scholar, poet, and video artist Yau Ching in M+ Hong Kong or Tate Library in London. One of the earliest members of Videotage, a Hong Kong-based new media organisation, she went on to create four feature films and ten experimental moving image works. "Ho Yuk" (aka "Let's Love Hong Kong") is one film to watch, in which nostalgic scenes of the Star Ferry and love hotels in Yau Ma Tei contrast broader forces of personal/public space and class. It's also an exploration of themes central to Yau Ching's work: gender & sexuality, difference & belonging, and history.
Yau Ching, www.yauching.com
Read More: 17 LGBTQ+ Shows To Watch On Netflix This Pride Month
---
Wong Ka Ying
Featured in Tai Kwun Contemporary's 2022/2023 group exhibition "Myth Makers—Spectrosynthesis III", artist-curator and writer Wong Ka Ying critically reflects on contemporary social and gender issues. She uses a wide range of mediums, including painting, collage, performance, and more. Her latest works "Keep Calm" and "Crazy Woman 瘋女人", are kaleidoscopically colourful and invites her audience to reimagine themselves and their futures.
Wong Ka Ying, www.wongkaying.com 
Read More: Must-See Hong Kong Art Exhibitions
---
View this post on Instagram
Oscar Chan Yik Long
Cinephiles will lose themselves in this artist's paintings. Hong Kong-born artist Oscar Chan Yik Long brushes Chinese ink on canvas, creating captivating monochromatic paintings that express intimacy, personal memories and reflections seen also at "Myth Makers—Spectrosynthesis III". In his recent series "Love+: Awakening" and "Random Diaries", Chan poetically blends real and imagined scenes from movies by legendary Hong Kong directors Wong Kar-Wai and Stanley Kwan.
Oscar Chan Yik Long, Instagram: @oscarchanyiklong, www.oscarchan.com
---